Samsung has released a new software update for the Galaxy Note20 and Note20 Ultra, which comes with the June 2022 Android security patch and improvements to the cameras' functions.
Additionally, the update enhances the night portrait feature introduced by Samsung on the Note20 duo last month.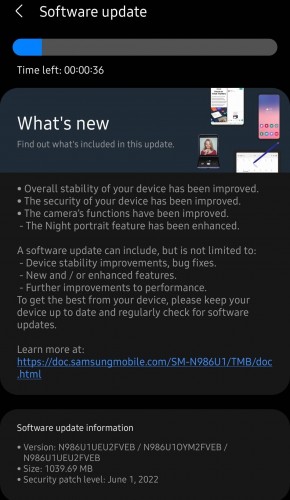 The new build is seeding with firmware version N98xU1UEU2FVEB in the US for carrier-locked Note20 and Note20 Ultra units, and you can navigate to your smartphone's Settings > Software update menu to check for the update manually if you haven't received it yet.
S
Are you REALLY going to pull the semantics argument here? Really? No s**t, of course sensors capture in RAW, it's a dumb sensor, it just captures light photons and doesn't know to do anything else. Everything that happens AFTER that is ALWA…
b
Every camera snaps a RAW image, that's just pure data from the sensor. Even the cheapest camera in the cheapest phone captures raw image data. Only some phones allow you to work with the raw data.
If you don't know anything about it, why …
M
Hmmm…
I have an unlocked Note20 Ultra and it says it's "up to date" with the last update from May 1. I guess this update is just for locked phones (though I don't know why).
Total reader comments: 16